Seattle, Washington
July 21, 2012
My panniers are packed, the car is loaded with all my possessions for the next three months. Jenny will drive me to Burlington (an hour north) where I will begin my most epic adventure—a bicycle ride from Washington to New York City.
But my sister is stills sleeps and heck, this is Seattle, why not enjoy the neighborhood where I'm at. I walk outside and just two blocks from the apartment, under the Aurora Bridge, I visit the bridge troll, a famous public sculpture. A perfect place to begin my first watercolor of a new series.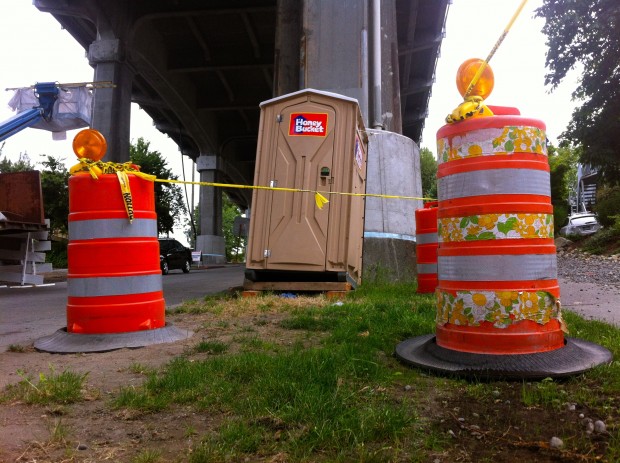 Using a "no parking" post, I hoist myself to sit on one of the bridge columns. Ahead, a crane blocks a clear view of the sculpture. Luckily, I lust for massive construction equipment and find comfort in familiar urban scenes. Just taking in the hum of the city as the cars drive the bridge overhead. My sketchbook in hand.

A gentle hum from under the bridge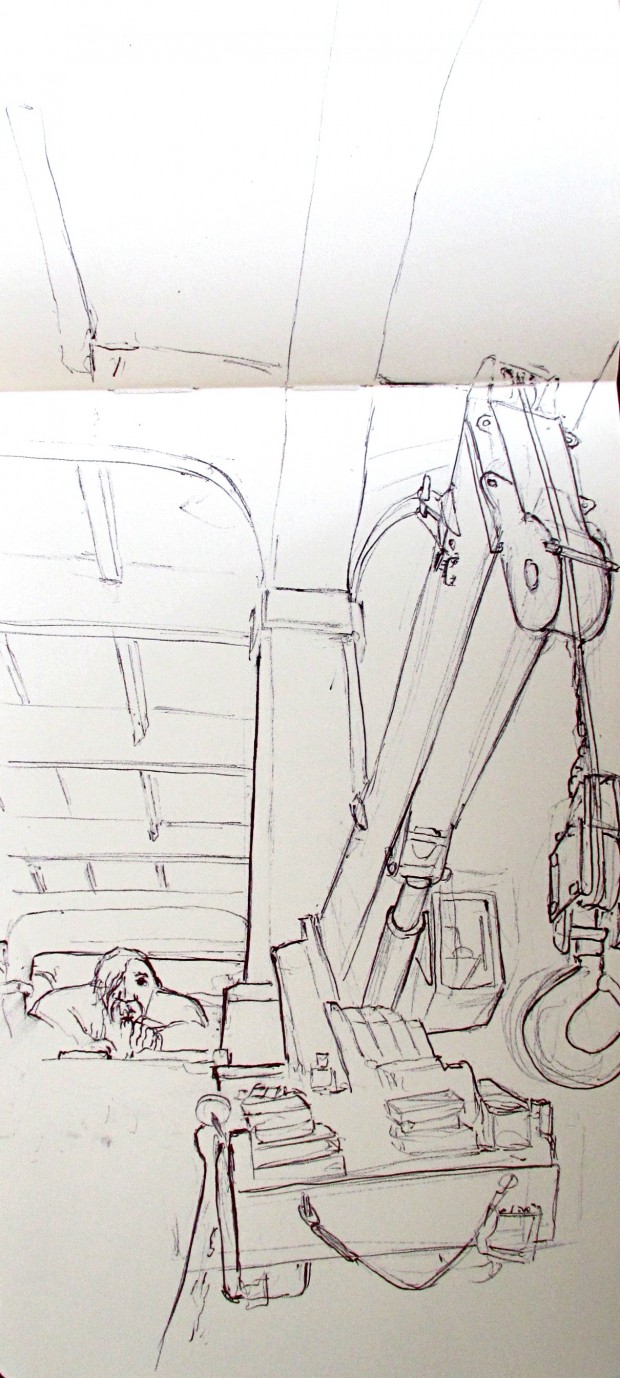 After a drawing, then a painting, my addiction kicks in—coffee. Heck, this is Seattle, the coffee connoisseurs capitol. Just a block further, and I'm at a vegan gluten free cafe called The Flying Apron. The latte is delectable and especially exciting when I find agave syrup among the sweetener options. Like a kid with Hershey's syrup over ice cream, I swirl agave in my coffee with intent. It's fun to waist time. I grab a the table instead of taking the coffee to go. Heck, I'm in Seattle, I'm going to be an artist who sits in a coffee shop and paints!
I work a little more on my troll watercolor, toiling over the drawing and shadows. Everything has to look just right. But the painting feels unsettled. It's not perfect. It's not complete. The prospective should've been different. Maybe I should restart.
Leaning back, sipping coffee, I look around. Heck, I'm still in Seattle. I haven't even started my bike ride and I'm already throwing my work down.
Looking at my drawing and painting of a bridge troll, I begin to wonder "How could this have been a better start for this crazy journey?" In all grand endeavors, all great bridges in life, we come across trolls that deter us from crossing. But this mythical character is what comes from within ourselves. And with that thought, I realized what my troll was—fear of a new beginning. Enough planning and preparation. Enough talking about it. I left behind 2 jobs. Now it's time to act. I had spent all morning stalling, and avoiding my departure. This fear of a new beginning. This troll at the start line. Here's the painted troll, I was facing it. My perception of it. My creation of it. But procrastination tastes so sweet in the coffee slowly drizzled with agave and embellished with a dash of cinnamon. Wait! Looking into my cup where cinnamon specs cling to the edge of the cup. Here I am, indulging on it. Stop.
I chug the coffee. Grab my paints and go. Heck, the day is still young. I better start something.