Craig performed this song for me back in May 2012 on the ranch. It was just another luncheon with visitors, he was another guest of Bob's that I would get to know over an afternoon. I captivated him with my famous "Jessie's chicken" and a from-scratch fruit tart which didn't last 10 minutes on the table.
Wowing guests with a home cooked feast on the veranda overlooking the Fallbrook valley was what I did best. And my favorite task. Managing the kitchen, food preparation, receiving guests, and presentation was under my total control. Bob let me run it my way because he didn't know how to push buttons on a microwave, but he did know how to uncork a bottle of wine. Most days, the kitchen was only stocked with a tub of mayonnaise, a jar of pickles, beer, and a half day-old baguette. But every week he'd called me from town: "I've got 7 people coming for lunch in two hours. I'm at the market. What do you need?" (Preplanning in Bob's eyes was superfluous). On those days, I triumphed as Iron Chef.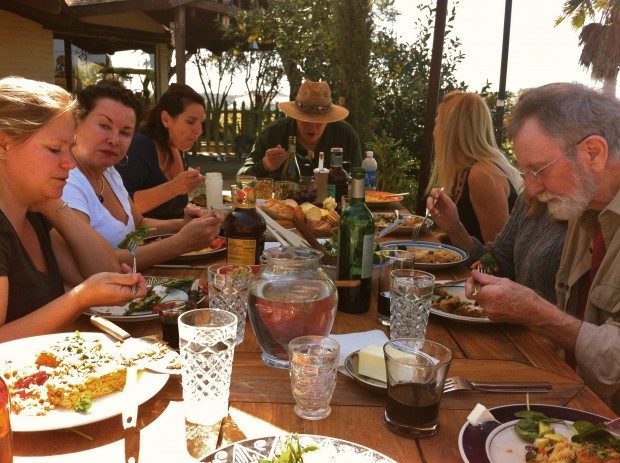 Maybe Craig called it with one lyric in his song. But somehow, I too knew the last super at sunset on the veranda in July, only days before riding my bike into the sunrise was my both physical and cognitive end of a chapter.
Parting from the ranch and Bob was cordial, I'll always be invited back. But I can only estimate the measure of impact my time on the ranch. My bipolar experiences at the ranch holds stories enough to fill novels, or 4 seasons of Bravo's next hit reality TV show. Featuring three British bulldogs, the crazy genius neighbor Rick, and guest starring ex Raiders quarterback Todd Marinovich. And don't miss the season premiere with cameo appearances with trapist monk, Benny, former Chuck Norris personal trainer. Tuesday nights at 10!
By the bye, the whirlwind with Bob offered more than just wacky moments and roller coaster rides. The opportunity has been a one of a kind, raw experience with a thriving, established artist and businessman who art is always displayed at the Yard House Restaurant. Living on a retreat, Italian inspired villa with guest amenities including an outdoor shower, a beer loaded fridge, and year round, trailer-side grown avocado and oranges. The venue for the best goddamn birthday party ever! And my first escape from the city to live, work, and in many ways thrive.

And now, after two years at the ranch and a lifetime in southern California, it's time for the next chapter—Seattle.
I leave now with a fond memory of painting on the ranch.