I'm on my way to Milwaukee. Before dawn, I have breakfast at the town square in Lake Mills. Cereal, gas station coffee, and my sketchbook. Riding any earlier means biking in a chill that stiffens my joints and numbs my extremities.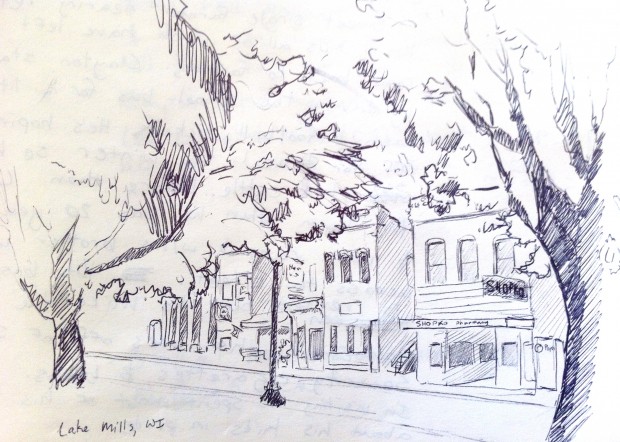 When the sky turns a soft magenta, I head east on the Glacial Drumlin bike trail through a tunnel of over arching trees. Even in this beauty, I pass the time by pondering algorithms. Estimating inputs of distance and speed against headwind, fatigue, and toilet breaks. Everyday, this algorithm more or less dictates my ride, aiming for an output in the positive—a quantified "fun". My mind swiftly diverts focus with a bird spotting, a glimmer of trash, or a right turn; restarting equations all over again. Math exhausts my thoughts for the better part of the day; however, today I can't get the math to add up. Although I hope for a quick tourist stop in Milwaukee, escalating headwinds and a deadline to reach Chicago by tomorrow win out. I decide to cut part of the route to drop mileage, avoid lake breezes, and increase opportunities for secluded camp spots away from urban sprawl. I'll aim for the state boarder by sunset and exchange Milwaukee for a frozen custard at Culver's.
Wending southeast on farm roads, I turn on White River trail outside of Burlington when a loud hiss comes from my rear tire, and I brake to a stop. Going to dismount, my left cleat sticks to the pedal, throwing my imbalance to the falling bike. In slow motion the horizon tips and I hit the ground, when my cleat effortlessly clicks free. For a moment, I just sit in the dirt, contemplating. Another thorn, another flat tire.
The sun hangs somewhere at 5pm and I'm still 2 hours from camp. I'm not hungry but I go straight for the snacks in my panniers. I polish another granola bar and dust off an opened chocolate bar. To patch the tire and reach camp in time would be a vain attempt. In hindsight, even without a flat, I was cutting it too close anyways. I search up and down the path as the trail disappears into farmland with no open spot to camp. My GPS shows no park, no motel, no food nearby. I look down to the ground at the thorny weeds creeping onto the path. I sigh and savor the last bite of bitter chocolate. Time to come to terms with my position: I don't know where I will stay tonight. In these situations, unexpected has become the norm, but not usually this close to sunset.
With a breath of uncertainty, I stand up, wipe the dust from my legs, turn up my bike, and head to the road. A new plan, a new algorithm: input—hitching. At the corner of Durand and S. English Settlement Ave. there's higher traffic, meaning more possible rides. I'll leave the tire flat, which might evoke more sympathy from drivers. This time, variable Z—good will—is up to chance.
Back on the street, my bike bumps with loose rubber swiveling between pavement and rim. After 100 feet down the road, I hear a man yelling as he approaches from his farmhouse across the street. He greets me, notices my flat tire, offers his assistance and air compressor. While tire pressure isn't exactly what I need at the moment, I never reject generosity–it's just bad karma. I wheel my bike over the grassy berm, and the farmer slides open his massive shed.
With speed, I patch the tire, but pinch the tube. So I redo. Patch the tire, then blow out with the air compressor. Redo. Patch the tire, then a patch rips off. Redo again. By this time, the farmer has already run through the What, Where and Why questions of my bike tour. And by the 4th patch, he's onto stories of his four adult kids, and how I remind him of one of them. He reveals his thoughts of retirement and upcoming plan to travel to Brazil, he says the cattle just need to be sold by winter. He's owned and worked this farm since his twenties, raised a family, and he shuffles his feet while giving me the tour of his factory on wheels—a combine. His sense of pride for his family and his farm are almost tangible. His joy in meeting new people and sharing is palpable. The tire is finally patched, and the farmer introduces himself as Clayton. Farmer Clayton.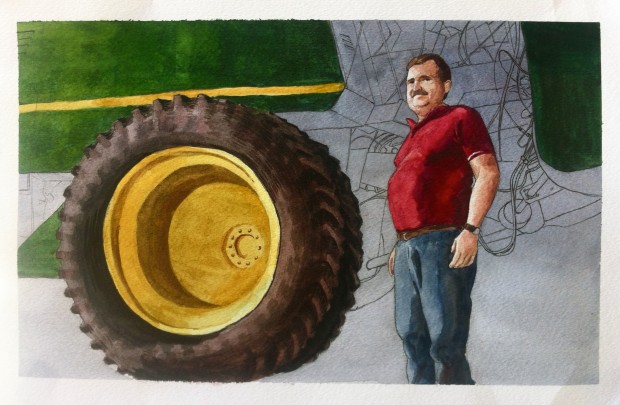 At first, farmer Clayton offers to drive me to a campsite, but with the sun crowning the lower grain silo, he pauses and offers his guest bedroom in his home. He's notably hesitant. Not for himself, but the outward perception of a single man offering a young woman a bed. He stutters during his overly cautious but gracious request. It feels familiar. Familiar like other gentlemen who have offered a ride, food, a place to camp, or even warm words of encouragement. Not out of wrongful intent, but of genuine kindness. It's a paternal sensibility. And I gratefully accept his hospitality.
Settling in his modest living room with the television as background noise, we say, "Cheers" with Coronas in hand, and he flips on the digital photo frame loaded with family pictures. Clayton asks my opinion of the eclectic display of art on the walls and he jokes about the "damn democrat" tenant living in the basement. Discussion topics are short as Clayton's eye frequently corners to the next flashing photo, occasionally interjecting politely with another story of his daughter's wedding or his new grandchild. I'm happy to listen, his exuberant joy in sharing family memories reminds me of a schoolboy eager to show off his construction paper crafts. Adorable really. But as the credits run on the television movie, we take note of the end of the evening and say our goodnights. Clayton drives the school bus on weekdays so we set our alarms for an early 5am wake-up.
My phone buzzards when the sky is still dark. I tear myself from bed, dress and pack, ready to leave. I close the bedroom door from the hallway and notice, at the other end in the kitchen, farmer Clayton carefully setting dishes out for breakfast. He's serving greek yogurt, blueberries, soggy watermelon, and cereal. Clayton admits, normally he forgoes a complete breakfast in favor of a Slimfast. But this morning was special. I'm so deeply humbled, in part by his overwhelming generosity and his extra attention to folded paper towels as napkins. I can only share my gratitude briefly before I need to stuff my face, otherwise I'll make him late for work. We rush out the door to bid our fair-wells and he sends me off with a peanut butter and jelly sandwich left over from last weekend's football game.
Miles down the road, it's decidedly too cold to ride and I stop 6 miles from the state boarder. In Paddock Lake I have second breakfast: PB&J, McDonald's coffee, and my journal. On the television, I realize yesterday was September 11, and I learn for the first time, of an American ambassador killed in Libya.
Farmer Clayton's hospitality was one of many altruistic acts I experienced across the country. But as I come back to reflect on my bicycle ride, I remember him first because in the final hour of the train ride home, after five months away, I received word from farmer Clayton's beloved son. The message informed me that his father had passed in a farm accident. A tragedy that occurred only two weeks after my tire popped outside of his farm. In that final hour, I was sent into mourning and tears for the loss.
An overwhelming wave washed over me. Some of the most profound moments of my journey came unexpected, unplanned, and by random chance. Farmer Clayton and dozens of others on my journey took a chance on a traveler, a perfect stranger, and in moments made me family. I remember Farmer Clayton explaining his tractor combine which I understood in rational terms. Input: acres of crop; function: harvest; output: soy and corn kernel. This was logical math that could be counted for. Yet, amazingly on my tour, whenever I relied on "chance" to pull me through, people ALWAYS came forward with open arms. Maybe this wasn't chance at all. Maybe this was humanity all along.
When I reached home, I didn't feel the rejoice of a return. When I laid in the stillness of my bed I came to realize, in fact, I never left home. Instead, home came with me across America and was welcomed in by the homes of others. Here in the memories, not a quiet bedroom, I found comfort. Here, I could relish in the love I received and in the humanity that ineffably connects us all, and me to Farmer Clayton.